Wireless

Networking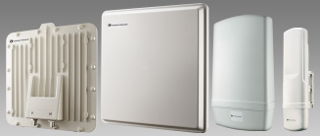 Cambium Networks
formerly Orthogon Systems

Cambium Networks' Orthogon and Canopy solutions are proven leaders in the wireless broadband industry. We deliver innovative data, voice and video connectivity solutions that enable communications virtually everywhere in the world. Your own private broadband wireless network.

Cambium Networks'
Point to Point (PTP)
radio solutions are providing award-winning network performance in licensed, unlicensed and defined use frequency bands.
Based on breakthrough Orthogonal Frequency Division Multiplexing (OFDM) technology, Cambium Networks' PTP solutions deliver exceptional near-line-of-sight (nLOS) and non-line-of-sight (NLOS) coverage in locations where foliage, tall buildings or other obstructions limit wireless broadband access.
Our PTP solutions are ruggedized for 99.999% reliability to deliver exceptional performance at the most extreme temperatures and under the most difficult weather conditions. Our PTP networks deliver the speeds to support today's in-demand bandwidth-intensive solutions, including high-speed residential and business access, streaming video and VoIP.
Features:-
Protocols/Services Supported:
HTTP: Simple Web Interface for setup/configuration
FTP: File Transfer of custom files and firmware/software upgrades
Telnet: Command Line access for advanced user control.
SNMP: Simple Network Management Protocol allows real-time network management.
NAT: Network Address Translation
900 MHz
2.4 GHz
5.2 GHz
5.7 GHz
Fast Deployment
Security AES/DES Encryption