OutBack

Power

OutBack Power Technologies
OutBack Power Technologies, Inc. is a global designer and manufacturer of cutting edge power conversion solutions that provide reliable electric power for the renewable energy, mobile and backup power markets. Our engineers all have decades of power conversion design and equipment installation experience and we share a passion for leading the industry into a new era of power conversion equipment performance, ease of use, and standardization.
With literally millions of power installations around the world -- in some of those demanding conditions imaginable -- these products provide clean reliable power -- where you need it, when you need it and how you need it.
---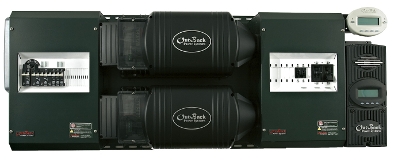 OutBack FLEXpower Promotion
Unheard of Savings When Ordering Two or More OutBack FLEXpower Systems
For a limited time, save serious money on some of OutBack Power's most popular FLEXpower systems. Pre-assembled, pre-wired and pre-tested FLEXpower systems make installation fast and easy. Now, when you buy two or more FLEXpower systems it makes saving money fast and easy, too!

Buy Two or More and Save: ††
$200 off each FLEXpower ONE
††
$300 off each FLEXpower TWO or FLEXpower THREE
††
10% off each FLEXpower system when ordering 10 or more
---
OutBack Power Technologies -- the POWER to change the world.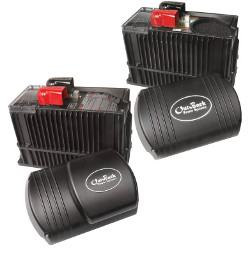 FX Sealed Inverter/Chargers
The FX series is designed to survive in environments that would normally destroy other inverter/chargers. Protection for internal components is provided by our die-cast aluminum chassis with a powder coated finish to prevent corrosion. Internal and external cooling fins allow for passive heat transfer, enabling peak operating efficiencies as high as 93% and looking cool while doing it. Water and small particles are kept out through the generous use of gaskets and 0-ring seals on all seams and openings. A protective conformal coating on all circuit boards provides the final line of defense against corrosion. The now standard externally mounted "TURBO" cooling system improves performance in hot conditions.
VFX Vented Inverter/Chargers
The VFX series is designed for more protected installations. By utilizing an efficient active cooling design, the VFX models are available with AC output up to 3.6 kilowatts. Our tough die-cast aluminum chassis physically protects the internal components while the air intake includes an easily cleaned filter, which allows for ventilation while also keeping bugs and other debris out. All circuit boards are conformal coated to prevent corrosion from airborne moisture in humid conditions. The now standard DC wiring cover (DCC) protects the DC terminals and battery cables from damage.
---

Outback FLEXmax 60/80
The FLEXmax family of charge controllers is the latest innovation in Maximum Power Point Tracking (MPPT) charge controllers from OutBack Power Technologies. The innovative FLEXmax MPPT software algorithm is both continuous and active, increasing your photovoltaic array power yield up to 30% compared to non-MPPT controllers. Thanks to active cooling and intelligent thermal management cooling, both FLEXmax charge controllers can operate at their full maximum current rating, 60 Amps or 80 Amps respectively, in ambient temperatures as high as 104°F (40°C).
Included in all of the FLEXmax Charge Controllers are the revolutionary features first developed by OutBack Power, including support for a wide range of nominal battery voltages and the ability to step-down a higher voltage solar array to recharge a lower voltage battery bank. A built-in, backlit 80 character display shows the current status and logged system performance data for the last 128 days at the touch of a button. The integrated OutBack network communications allows FLEXmax series Charge Controllers to be remotely programmed and monitored via a MATE system display and provides unrivaled complete system integration.
---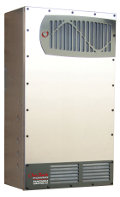 Radian Series
The new OutBack Power Radian Series GS8048 inverter/charger provides a comprehensive answer for Grid-interactive and Standalone power systems. Based upon a proven foundation of reliable technology, but engineered from the ground up to simplify the design, distribution, installation and implementation of energy storage, the standardized structure and integration with the GSLC load center make it easy to provide a successful solution to any power requirement, anywhere.
Incorporating a powerful DC to AC true sine wave inverter, battery charger and dual AC inputs, its 120/240V split-phase power provides a total power solution which seamlessly integrates with traditional North American wiring practices.
Unique dual power module design provides high efficiency at both low and full power operation, while providing redundancy for critical applications. The modular design also allows easy field servicing of installed systems.
Complete system interface via the OutBack HUB system communications manager enables the Radian Series GS8048 to be connected with other OutBack Power electronics providing industry leading integration and a robust, scalable power solution. Up to 10 units can be connected in parallel for systems up to 80kW continuous power output.
The Radian Series utilizes a durable stainless steel face with galvanized steel enclosure, providing you with OutBack's signature ruggedness but with a sleek, compact and modern appearance.
---

Mate 3
The new MATE3 System Display and Controller makes it easier than ever to program and monitor your complete OutBack Power system. An intuitive user interface and integrated system configuration wizard make system setup and programming quick and seamless. The ability to set unique multi-level user passwords allows you to secure critical system settings from unintended changes while still allowing open access to necessary functions. Through the use of a single MATE3 you can remotely manage and monitor multiple inverter/chargers, charge controllers and DC monitoring devices.
The MATE3 is packed full of features to make system management simple. The easy-to-read graphical LCD display is backlit for dark operating conditions. Improved tactile buttons and a user programmable "favorite" key give you immediate access to the features you want, while an intuitive scroll wheel interface allows for easy adjustment of system set points. Expandable SD card memory allows you to increase data logging capacity as well as upgrade units in the field.
A built-in clock and calendar function enables timer-based programming of inverter and charger operation. This permits you to set the system to work with time-of-day power rates or to limit a generator's run time to a specific time period of the day or week. All of your settings are stored in permanent memory to eliminate the need to reprogram in the event of a system shutdown or battery replacement. The MATE3 is an Internet enabled device — simply connecting to the Internet will allow full remote system monitoring via an easy-to-use web interface.
The MATE3 system display and controller is the next generation of communication interface, offering powerful insight into every aspect of your OutBack Power system.
---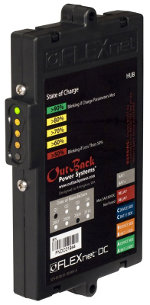 FLEXnet DC
The OutBack Power Technologies FLEXnet DC is the ultimate in DC System monitoring devices. Our integrated networked communications make valuable, usable data available from your system, viewable on an OutBack MATE communications device, providing you with the answers you need concerning your system's health, performance and efficiency.
Battery Status Screen - Easily see your system's current condition with this at-a-glance display. This screen shows an easy to interpret "fuel gauge" style status bar, current state-of-charge and whether you are currently charging or discharging your batteries. This is useful for those system owners who want a way to quickly understand the current state of their battery bank.
Now Summary Screen - Monitor the amount of power your system is currently producing and consuming as well as the amount of power going IN and OUT of your battery bank. This screen also displays your battery bank's voltage and current state-of-charge, providing you with real-time production monitoring of DC sources, such as a solar array or small wind turbine, as well as consumption by loads.
Today Summary Screen - Monitor the cumulative energy your system has produced and consumed as well as the total amount of energy that has gone to charging your batteries today. This screen also displays today's lowest state-of-charge and allows you to see how your overall system production compares to system consumption.
History Summary Screen - Review historical energy production/consumption data for the most recent 128 days, including the minimum battery state-of-charge reached for each day. This screen can be used to watch power system production and consumption trends.
---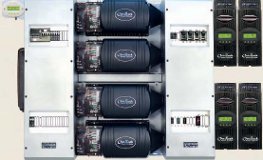 Outback FLEXware 1000
For applications with large power requirements such as large residential, commercial or village power systems. The FLEXware 1000 system architecture is capable of supporting up to four OutBack FX Series Inverter/Chargers, four OutBack charge controllers, and all the required AC and DC components and wiring. Utilizing a compact design, FLEXware 1000 AC and DC enclosures accommodate all of the essential protective devices with lots of room for additional breakers and large cable connections and can be mounted either vertically or horizontially. With one year Warranty.
---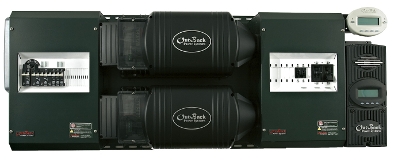 Outback FLEXware 500
For applications with medium power requirements such as homes, light commercial or larger back-up power systems. The FLEXware 500 system architecture can support up to two OutBack FX Series Inverter/Chargers, up to two OutBack charge controllers and all the associated AC and DC components. Thanks to a very compact design, FLEXware 500 AC and DC enclosures mount with a FLEXware MP in either a horizontal or vertical orientation to allow installation in more space-limited locations for a fast and professional looking wall-mounted installation. The FLEXware 500 accommodates all of the essential protective devices in two enclosures. With one year Warranty.
---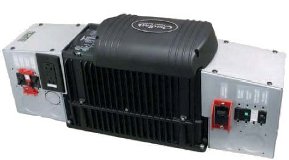 Outback FLEXware 250
For applications with modest power requirements such as cabins, chalets, homes, remote communication sites and back-up power systems. The FLEXware 250 accommodates all of the essential protective devices in the smallest possible space at the lowest installed cost. Utilizing an extremely compact design and unique mounting features, one or two FLEXware 250 enclosures can be mounted on each end of a single FX Series Inverter/Charger. The FLEXware 250 enclosure is contructed of powder-coated aluminum and has been ETL listed. It provides breaker spaces for battery, PV array or PV GFP breakers and mounting locations for AC GFCI outlet, AC breakers and an Input-Output-Bypass Assembly. In keeping with the philosophy of FLEXware, the FLEXware 250's flexibility is evident in the generous number of knock-outs allowing the installation of conduit, cable glands, and other installation accessories. With one year Warranty.
---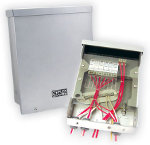 FLEXware PV
The OutBack Power Technologies FLEXware PV combiner series sets the new standard for PV balance-of-system hardware. Ideal for both small or large systems, the FLEXware PV8 and FLEXware PV12 accommodates the overcurrent protection requirements of your application. From 150VDC breakers for low voltage PV systems, to 600VDC fuse holders for high voltage PV systems, the FLEXware PV Combiner series handles it all.
Designed to survive in outdoor environments, the rainproof, UL type 3R powder coated aluminum chassis can be mounted on a wall, sloped roof or pole. The unique angled negative terminal bus bar design makes wiring fast and easy without the larger output conductors blocking access to the smaller input terminals. Dual output lug terminals are included for up to 2/0 AWG conductors. The tinted flame-retardant polycarbonate deadfront panel creates a clean appearance while preventing accidental contact with the live terminals and is easily removable during installation.
---